February Newsletter: Universal Apostolic Preferences
President's Post

JASPA @ NASPA 2020 in Austin

NJSLC 2020 Updates

JASPA Five-Year Summer Institute Updates

Vacancy: Chair of Mentoring and Networking

Innovation Grant Application Process for 2020

 

Moment for Mission: Prayer for Black History Month

February Blog:

Ophelia Rowe Allen, Ed.D.

, Fairfield University
---
President's Post

As the days begin to lengthen across our campuses and our country, we return to the theme of Cura Personalis – a foundational tenet of Jesuit education, of Ignatian care, and of our work as student affairs professionals.  Last February I wrote that this phrase is often misunderstood.  I stated "While all the intentions are positive, I too often hear Cura Personalis defined simply as "care for the whole person", as if it's just a Latin synonym for that concept." There is actually more to the story than that.
And this February, in keeping with the idea of "being misunderstood", I am reflecting on one of my favorite podcasts, which happened to feature Jesuits in several episodes this year.  The podcast is Revisionist History by the author Malcolm Gladwell.  Gladwell bills his podcast as being about events and people in history that have been overlooked or misunderstood.  I have listened eagerly to all four seasons, and have read a couple of his books.  So, you can imagine my excitement on learning that Season 4 featured several episodes about Jesuits – their moral reasoning, their spirituality, and their way of proceeding.  I will let you explore the episodes – each is worth listening to.  What I will focus on here is one phrase that is also the title of an episode: Descend into the particular. 
Gladwell describes this concept in a compelling way in the heartbreaking episode in question, and his central point is that general principles are not enough when we seek to understand a complex human situation.  We need to be attentive to the particular elements of a student, a story, or a situation.  There is something vital to be learned by moving past our "general notions" of how students think, what worries parents, and what motivates our colleagues.  While those generalizations help us operate in a complex world, they can also impoverish our understanding.  What Gladwell (and St. Ignatius with his spirituality) are inviting us to do is to be attentive to the particular in each person we encounter. 
This may mean active listening to a student who is struggling.  It may take the form of considering a student petition from the perspective of "what is their experience like?" rather than "why are they agitating again?".  It may emerge as a more careful consideration of an unconventional idea from a colleague, rather than dismissing it out of hand.  Each of us can reflect on what "descending into the particular" might look like in our understanding and our daily practice. 
If we wish to be deliberately Ignatian in approaching our work, this concept seems like a gift we have the opportunity to open in some new ways in the months ahead.  So, next time you hear Cura Personalis tossed around, you can thank Malcom Gladwell for making it a bit more complex – and a bit more meaningful – phrase. 

Todd Olson, Phd
Georgetown University
JASPA President
---
JASPA @ NASPA 2020 in Austin
Will you be attending NASPA 2020 in Austin, Texas? JASPA will be hosting a social and networking gathering on Saturday, March 28 at Uncle Julio's in Austin and it's fixing to be a great time! Additionally, Mass will be offered to JASPA attendees on Sunday, March 29 (time/location TBD) and we'd love to see you there.
Please RSVP so we can plan for food/drinks accordingly!
Reach out to Jackie Dykes at jkus@regis.edu with any questions or accommodation requests. 
---
NJSLC 2020 Updates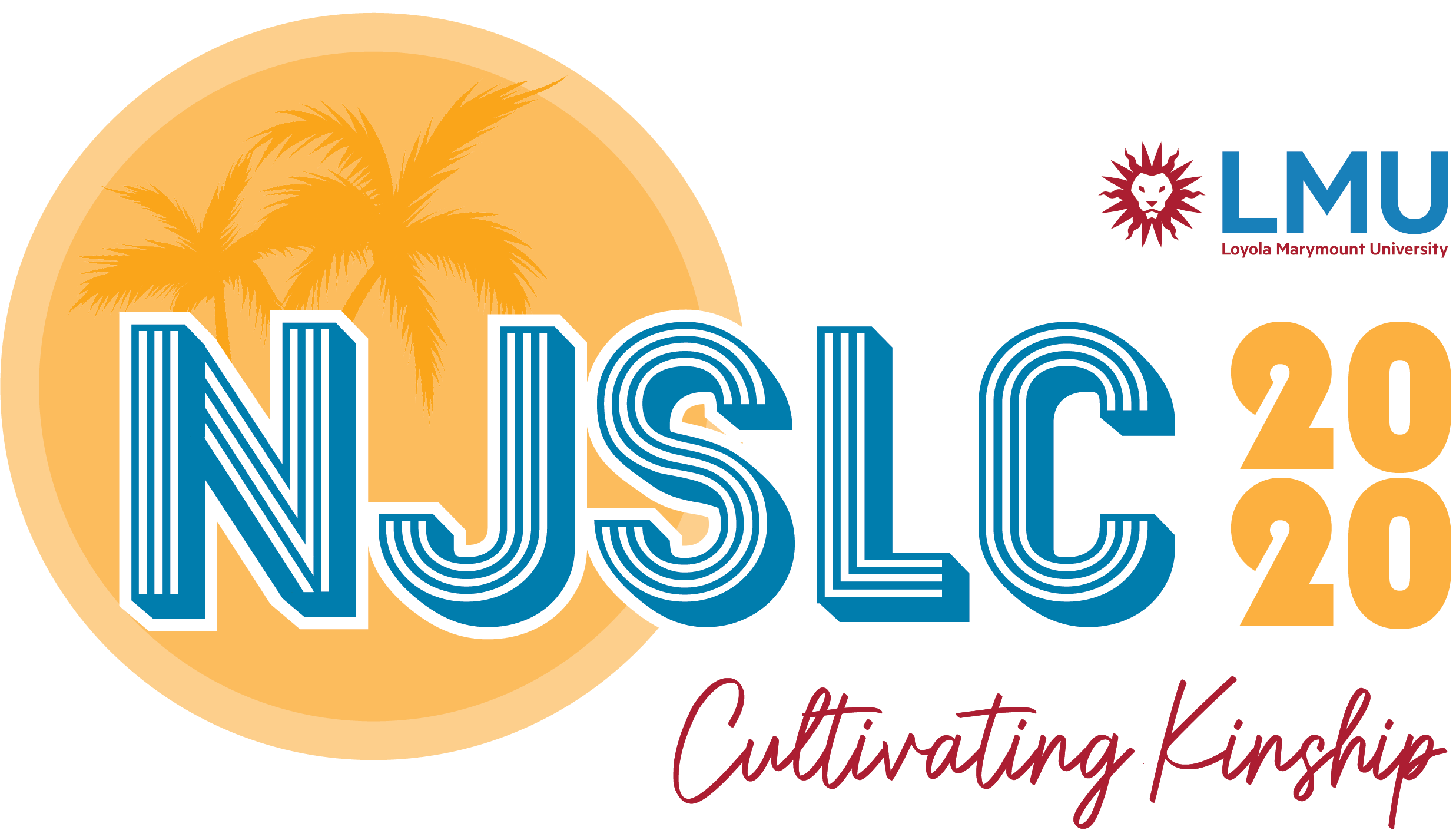 Loyola Marymount University is happy to invite you to the National Jesuit Student Leadership Conference this summer in Los Angeles!
NJSLC 2020 Cultivating Kinship is shaping up to be a great experience of celebrating our common heritage of forming student leaders in Jesuit Higher Education. Registration starts next week! Advisors and SSAOs should be on the lookout for an email with more details.
The conference is set for Monday, June 22 through Friday, June 26. Start gathering your delegations and preparing for a fantastic week in Los Angeles!
If you have any questions, please feel free to contact us at NJSLC@lmu.edu.
---
JASPA Five-Year Summer Institute Updates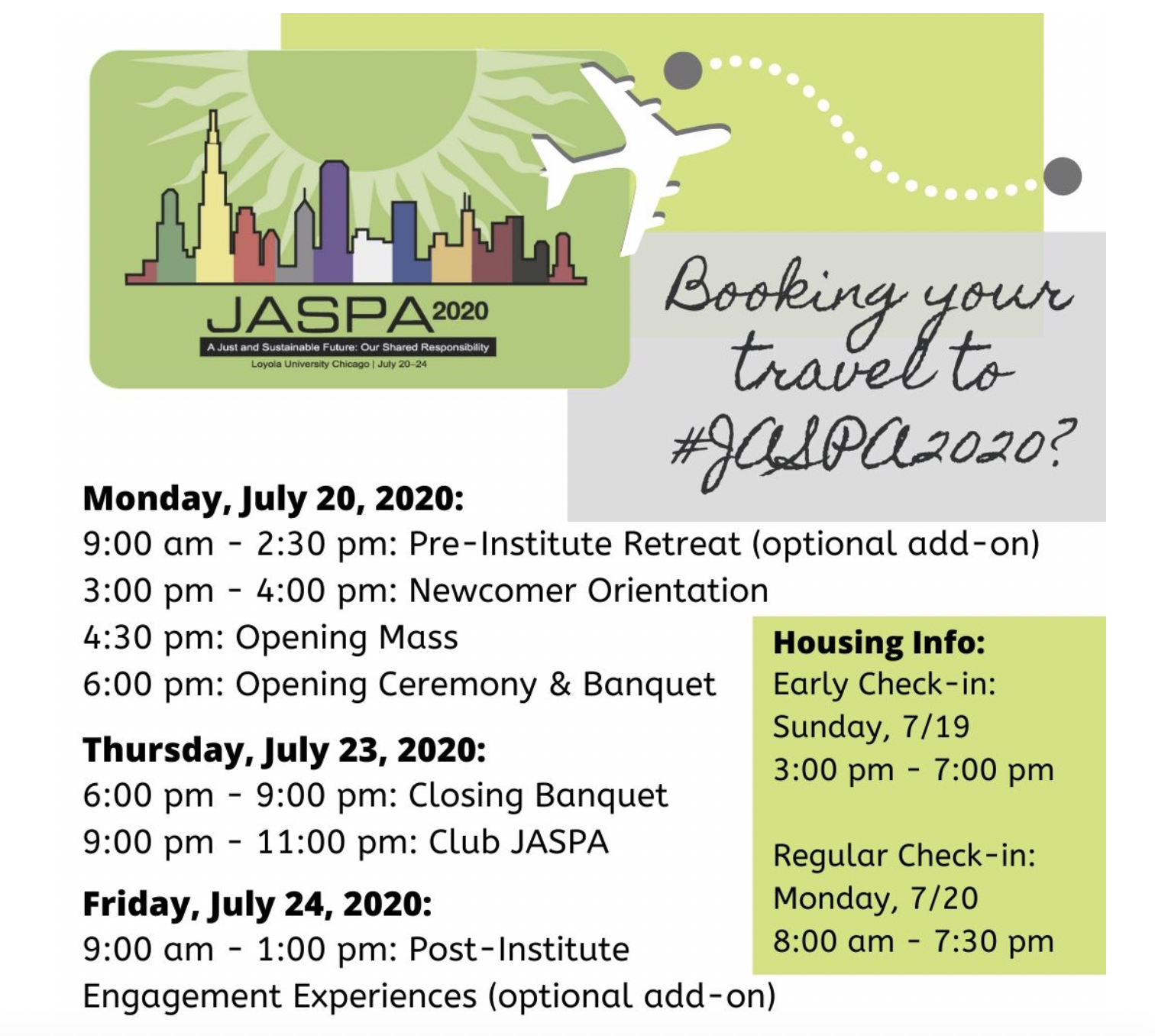 Planning your travel for #JASPA 2020? Check out the schedule overview above to assist you with your itinerary! To view the preliminary schedule online, we invite you to explore the Institute's website for more details! The entire schedule will be posted later this spring. Be sure to stay tuned to JASPA social media channels for exciting releases!

Registration: Online registration and housing reservations are now LIVE!

Step 1: Update your JASPA Profile.
Step 2: Review Institute housing options.
Step 3: Consider if you will participate in any of the optional Institute opportunities (JASPA Retreat for Women of Color Student Affairs Administrators, Pre-Institute Retreat, Post-Institute Engagement Experiences).

We've created the attached 2020 JASPA Five Year Summer Institute Registration Guide to assist you with the process!

Early Registration: 1/27/2020 - 3/16/2020 | $580
Regular Registration: 3/17/2020 - 4/9/2020 | $600

Various on-campus housing options are available for Institute participants and will be assigned on a first come, first serve basis. Be sure to follow the steps in the Registration Guide for instructions on completing your housing reservation!
Questions?
General questions regarding the Institute can be directed to the Programming Committee
Co- Chairs: Kiersten White  & Bennie Williams.

Questions regarding Institute registration can be emailed to Tedd Vanadilok, Logistics Co-Chair.

Questions regarding Institute housing can be emailed to loyolalodging@luc.edu.
---
Vacancy: Chair of Mentoring and Networking
Click Here for Application Link
Deadline: February 28, 2020
Provide opportunities for JASPA members to connect with one another through regional and national programs, conferences and other venues.
Develop and provide formal and informal opportunities for Student Affairs professionals, including graduate students, to network with Association of Jesuit Colleges and Universities (AJCU) institutions and other relevant higher education associations (e.g.; National Association of Student Personnel Administrators, ACPA - College Student Educators International, Association for Student Affairs at Catholic Colleges and Universities).
Develop and provide service and leadership opportunities for Student Affairs professionals, including graduate students in Jesuit higher education, seeking future opportunities in Student Affairs.
Chairperson is responsible for:
Selecting committee members​​​​​​

Assigning tasks to committee members

Convening regular meetings of the Mentoring and Networking Committee, including quarterly conference calls

Preparing quarterly progress reports for the Vice President of Networking, Service & Recognition

Overseeing planning and promotion of Club JASPA networking events during the annual JASPA spring conference and 5 Year Institute

Assisting in the coordination of the JASPA-sponsored mass at the annual JASPA spring conference

Collaborating with the Chair, Social Media, to promote JASPA member involvement in JASPA-related social media communication

Providing outreach to faculty and department chairs of Student Affairs preparation programs at JASPA institutions to determine opportunities for collaboration and communication with JASPA

Outreach to graduate students of Student Affairs preparation programs at JASPA institutions to promote engagement within the JASPA organization

Outreach to other national organizations (ASACCU, NASPA, ACPA, etc.) to determine collaborative opportunities for JASPA

Authoring annual report with assessment for Executive Board
---
Innovation Grant Application Process for 2020
Each year, JASPA will award a limited number of grants for the purpose of applying current research to address pressing issues in Jesuit student affairs. While proposals for all projects/programs that address the goals and values of JASPA are welcome, special emphasis will be placed on those that are focused on efforts promoting diversity and inclusion. Between $8,000 and $10,000 will be available to fund these initiatives each year. Proposals will be accepted until all funding is dispersed; however, priority will be given to proposals received by Wednesday, April 1st, 2020. Decisions will be made and communicated between May and June, and grants will be awarded in the new fiscal year.
More information about the process (including the link to the online application) can be found here:  https://www.jesuitstudentaffairs.org/cpages/grants.  Please contact Shannon Howes at showes1@luc.edu if you have any questions, and/or if you are interested in serving on a committee to review grant applications. The commitment of reviewing applications will be limited to a period of a few weeks during April.
---
Moment for Mission: 
Prayer for Black History Month
Spirit of Abundance, God of Grace, Mother of Hope,
We pause now to remember those stories that are all around us,
But so often passed over,
Those stories that when told are shared because
Of what someone is, not who they are.
This month in our nation's character
Is Black History month.
Help us to realize that Black history is
All our histories.
May the day come when these stories
Are so wildly taught that no month need
Be separately divided.
We know this day will not come until we as a people
Make different choices.
We pray now for those new choices.
May we come to see a day where the prison system
Becomes redemptive, not punitive.
A day where the legal system learns to focus more squarely on the facts,
And the not colors of our skin.
A day where our schools are as well funded, as the needs demand.
May our role models be allowed to excel when they thrive,
And not be taken down for their rich heritage.
We know this will require a shift in power.
And this can be scary for some.
Give those full of fear - hope.
May we come to know grace,
So that our hearts will not be hardened to the pain around us.
There are so many beautiful stories needing to be told.
And we need to get the chance to hear them.
Widen our vision so that the history that is shared this month,
And every month,
Come to be known as our history too.
We are most human when we see the humanity in others.
- Author Unknown
As you make your way through the month of February, may you find yourself surrounded by many beautiful stories needing to be told.
Jeanne Rosenberger
Santa Clara University
Past President, JASPA
---
February Blog Post: Ophelia Rowe Allen, Ed.D.
Reflections on Caring for our Common Home
The encyclical letter Laudato Si encyclical "Praise be" by Pope Francis covers a multitude of themes that relate to the environment, ethics of care, and the Christian faith. Although the arguments outlined are founded on Catholic theological principles, they are universal in scope and have applicational value for all of humankind. One of the salient points of this document is the notion of the common good as it relates to humanity and the environment. This is summed using the following question "What kind of world do we want to live in and leave for those who come after us?" The symbiotic relationship with the environment and humanity is repeated many times throughout the document. Pope Francis states, "when we speak of the environment, what we really mean is a relationship existing between nature and the society which lives in it. Nature cannot be regarded as something separate from ourselves or as a mere setting in which we live. We are part of nature, included in it, and these in constant interaction with it (139)."

Pope Francis' emphasis on the "interconnectedness" of all things shows how much everything matters such as nature, the care of others, and the many wonders found in creation. Therefore, we must take a closer look at the environmental problems in the context of who we are and our individual choices. As individuals, we should understand our place in the world and our relationship with mother earth. The encyclical reminds us that the challenges of sustaining the planet, affect all of us, specifically, the ones who are vulnerable due to the exploitation of natural resources. If we understand that we are tasked by our common humanity to" till the earth" that we dwell in, then we have an obligation to preserve and utilize the earth resources in a way that is not harmful. We are seen as caretakers rather than passive occupants of this earth.

In addition, our interconnectedness forces us not to work in separate entities or solitary pursuits. This is particularly true when doing social justice work. Most times, when we look at what we call our environment, we mainly focus on our social environment and less on the natural environmental landscape. Within the social environment, there are preferences regarding its needs and wants that are influenced by values, beliefs, and practices. While we must be keenly aware of these preferences, we must also consider the impact that these preferences have on nature and communities at large.

There are ways that we can answer the call to care for our common home through social change. For those of us working in higher education, we should think about the kind of social preferences we would like to adopt for social change. Although social change comes with risks, there are also opportunities. The opportunities available to us allow us to tackle the issues through the lens of urgency, necessity, and attainment for universal good. This is our present-day mission to advocate for justice as it pertains to the fair treatment of humanity and the earth. We have the awareness, knowledge, and skills to do what is right. Laudato Si`, underscores "the relationship between a good aesthetic education and the maintenance of a healthy environment cannot be overlooked. By learning to see and appreciate beauty, we learn to reject self-interested pragmatism. If someone has not learned to stop and admire something beautiful, we should not be surprised if he or she treats everything as an object to be used and abused without scruple. If we want to bring deep change, we need to realize that certain mindsets really do influence our behavior. Our efforts at education will be inadequate and ineffectual unless we strive to promote a new way of thinking about human beings, life, society, and our relationship with nature (215).

Living our vocation to be protectors of this earth and those who live in it is essential to who we are and how we are called to be.
Ophelia Rowe Allen, Ed.D., is currently the Associate Dean of Assessment and Director of Residence Life at Fairfield University. She is the co-founder of the Fairfield Colleagues program, regularly participates in the orientation for the Ignatian Colleagues Program, and one of the content chairs for the JASPA 2020 Institute.
Attachments
The following files are available for download