Use this area to offer a short teaser of your email content. This section will only be displayed in the preview area on certain devices and email clients.
January Newsletter
In this edition:
President's Post
Online Enrichment Opportunity focusing on Anti-Racism
2021 Innovation Grant Application Process
More from the AJCU Network
---
President's Post
We have Everything We Need to Meet this Moment
"I believe that unarmed truth and unconditional love will have the final word in reality. This is why right, temporarily defeated, is stronger than evil triumphant."  
Martin Luther King
2021 is off to a rough start. The attack on the Capitol and record numbers of COVID-19 infections and deaths make clear that the road ahead will be, like the road behind us, difficult.
And: we got this.
This past year -- while it has been injurious -- has made us stronger, as individuals and as a community. And stronger, we will get through this -- together.
Last week, the JASPA Executive Board had a retreat during which Michele Murray (Vice President of Student Affairs and Dean of Students at Holy Cross) powerfully remarked, "Even in our moments of weariness, we have everything we need to meet this moment."
This spring we have good and important work to do. Together we will offer our students the support they need to get through this chapter, and together we will offer them experiences to further their commitment and capacity to make this world a better place.
As we begin our spring semesters, in this very hard context, Martin Luther King's words ring true, inspire hope and invite passionate perseverance, "unarmed truth and unconditional love will have the final word in reality".
"We will get through this together."
Joe Biden, 46th President of the United States
Dave Johnson, Ph.D.
Xavier University
JASPA President
---
Online Enrichment Opportunity focusing on Anti-Racism
Save the Date:
Thursday, February 4, 2:00-3:00pm EST
More information to come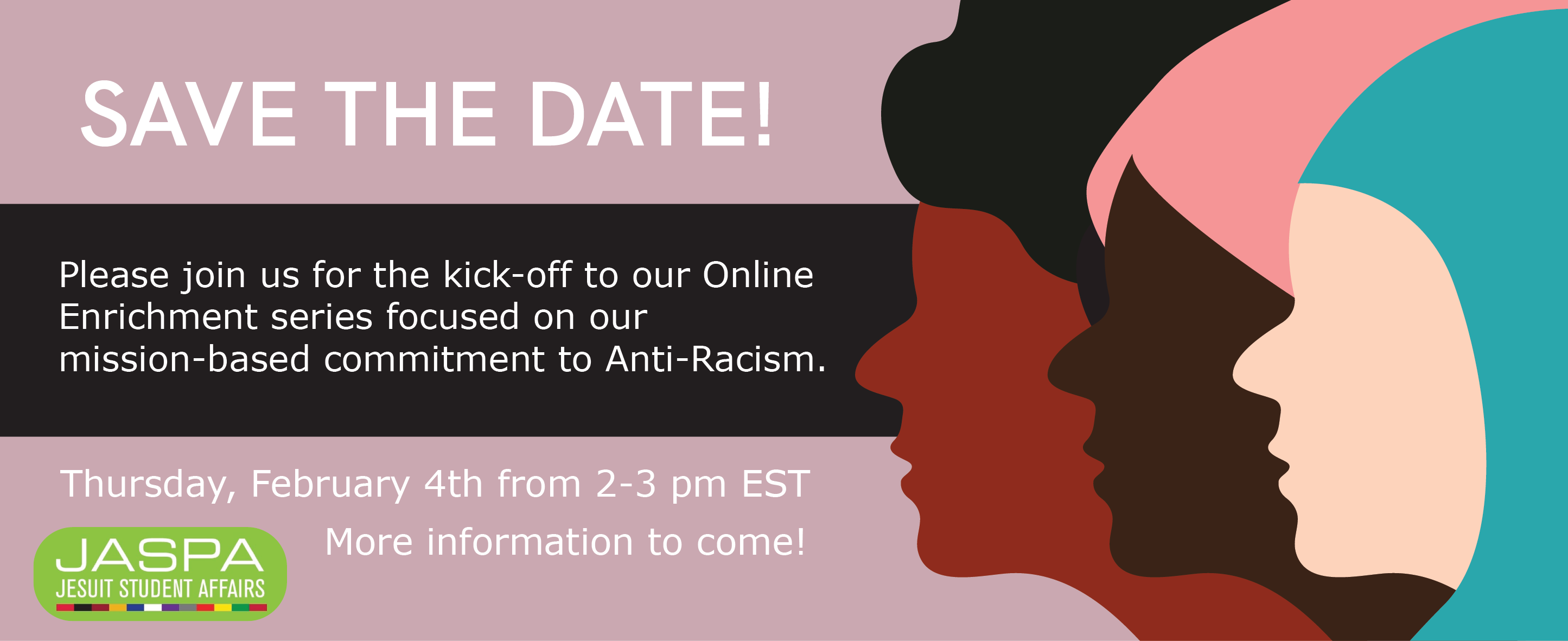 ---
2021 Innovation Grant Application Process
Each year, JASPA awards a limited number of grants for the purpose of applying current research to address pressing issues in Jesuit student affairs. While proposals for all projects/programs that address the goals and values of JASPA are welcome, special emphasis will be placed on those that are focused on efforts promoting diversity and inclusion. Between $8,000 and $10,000 will be available to fund these initiatives each year.
Proposals will be accepted until all funding is dispersed; however, priority will be given to proposals received by Monday, April 5, 2021. Decisions will be made and communicated between May and June, and grants will be awarded in the new fiscal year. More information about the process (including the link to the online application) can be found at:
https://www.jesuitstudentaffairs.org/cpages/grants
Please contact Michelle Bata at mbata@holycross.edu if you have any questions, and/or if you are interested in serving on a committee to review grant applications. The commitment of reviewing applications will be limited to a period of a few weeks during April.
---
More from the AJCU Network