January Newsletter: Universal Apostolic Preferences
President's Post

JASPA @ NASPA 2020 in Austin

JASPA Five Year Summer Institute Updates

Innovation Grant Application Process for 2020

2020 National Jesuit Student Leadership Conference

Moment for Mission 

Janaury Blog: Jessie Graf, Boston College
---
President's Post
This month we celebrate the start of a new year, and continue reflecting on the Universal Apostolic Preferences of the Society of Jesus.  In this post, I would like to invite you to consider the process, more than the content, of those preferences.  This process can be a wonderful model for us – of collaboration and renewal -  as we carry out our work and our mission. 
In his letter to the "the whole Society of Jesus" early in 2019, Father General Sosa shares the substance of the four preferences, and also goes into considerable depth in describing how they emerged out of a process of discernment.  He goes on to develop a way of proceeding for bringing the preferences to life.  That way of proceeding speaks directly to our work, and is an invitation to each of us who work in Jesuit higher education. 
Father Sosa notes that a critical condition for the success of these preferences is the deepening of collaboration among Jesuits and their partners in mission.  We are those partners, and we are called to play an active role in understanding, interpreting, and applying the preferences on our campuses.  We are not spectators or passengers when it comes to embodying
Father General also makes the assertion, near the end of the Apostolic Preferences document, that "The preferences seek to unleash a process of apostolic revitalization and creativity that makes us better servants of reconciliation and justice."  That assertion is worth unpacking a bit.  First, the idea of revitalization reminds us that we are building on almost five centuries of Jesuit education, and have a basket of incredible gifts and assets to drawn on.  So, these preferences are not some new trend, but rather a timely re-imagining of very old ideas.  Second, the focus on creativity reminds us that we need a playful and creative spirit to bring our mission to life in innovative ways.  Third, the aim of this process is nothing less than reconciliation and justice – a reminder that our work is about transformation of individuals and society – not just about transfer of knowledge or other transactional goals.  Our institutions can heal, can restore, and can be both pastoral and prophetic in our impact. 
In sum, the process of the Apostolic Preferences is an excellent model for each of us, for our Student Affairs divisions, and for our institutions.  A very fitting New Year's resolution for us is to accept this invitation with energy, commitment, and creativity. 
I wish for each of you a peaceful, joyful, and generative new year.  Thanks for all the thoughtful work you do on behalf of JASPA, your institutions, and the students we all serve.

Todd Olson, Phd
Georgetown University
JASPA President
---
JASPA @ NASPA 2020 in Austin
Will you be attending NASPA 2020 in Austin, Texas? With the JASPA Five-Year Institute coming this summer, there will not be a day-long JASPA conference before NASPA.  However, JASPA will be hosting a social and networking gathering on Saturday, March 28 and a JASPA Mass on Sunday, March 29 for those of us who will be attending NASPA or TPE. Details to come soon and we look forward to mingling in the live music capital of the world!
---
JASPA Five Year Summer Institute Updates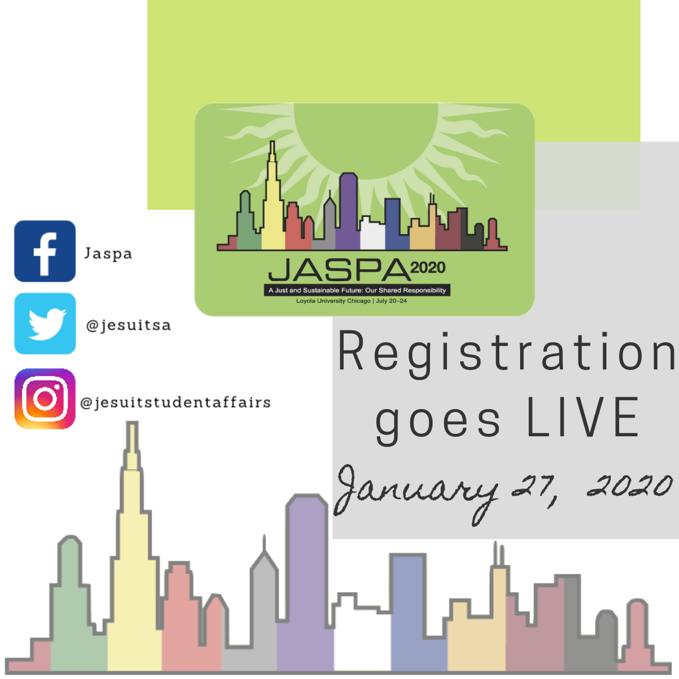 Happy New Year, All! With the start of this new year and new decade brings the countdown to an Institute summer! We are beyond excited to continue sharing what we have in store for participants this July. The Programming and Host Committees have been hard at work preparing for some important deadlines on the horizon.
Program Proposals
Once again, thank you to our incredible members for the record number of program, workshop, and lightning round submissions that we received. It was a challenging process, but decisions were sent out before the holidays. Be sure to check your inboxes for your response! Questions? Reach out to the Institute Content Chairs directly by emailing Michele Bogard, Michael Puma, and Ophelie Rowe-Allen
Registration
Registration and housing will go LIVE on Monday, January 27, 2020. A separate email will be sent out in the coming weeks with details on this process. Be sure to give us a follow on JASPA social media sites for regular updates and tips! Housing reservations will also open at this time. Single and double-occupancy on-campus housing at Loyola University Chicago will be available at a range of prices on a first-come, first-served basis. For the best selection and to access the most affordable options, early registration is highly encouraged!
Speakers, Logistics, and More!
Did you catch our 2020 JASPA Five Year Summer Institute updates last month? If not, be sure to download your copy for information about our keynote speakers, special events, and optional add-on's to make your Institute experience developmental and engaging! Download the December Updates Guide here.
General Questions? Contact our Programming Committee Chairs by emailing:
Kiersten White and Bennie Williams.
— The JASPA 2020 Five Year Summer Institute Programming Committee
---
Innovation Grant Application Process for 2020
Each year, JASPA awards a limited number of grants for the purpose of applying current research to address pressing issues in Jesuit student affairs. While proposals for all projects/programs that address the goals and values of JASPA are welcome, special emphasis will be placed on those that are focused on efforts promoting diversity and inclusion. Between $8,000 and $10,000 will be available to fund these initiatives each year.
Proposals will be accepted until all funding is dispersed; however, priority will be given to proposals received by Wednesday, April 1st, 2020. Decisions will be made and communicated between May and June, and grants will be awarded in the new fiscal year. More information about the process can be found here.
Please contact Shannon Howes at showes1@luc.edu if you have any questions, and/or if you are interested in serving on a committee to review grant applications. The commitment of reviewing applications will be limited to a period of a few weeks during April.
---
2020 National Jesuit Student Leadership Conference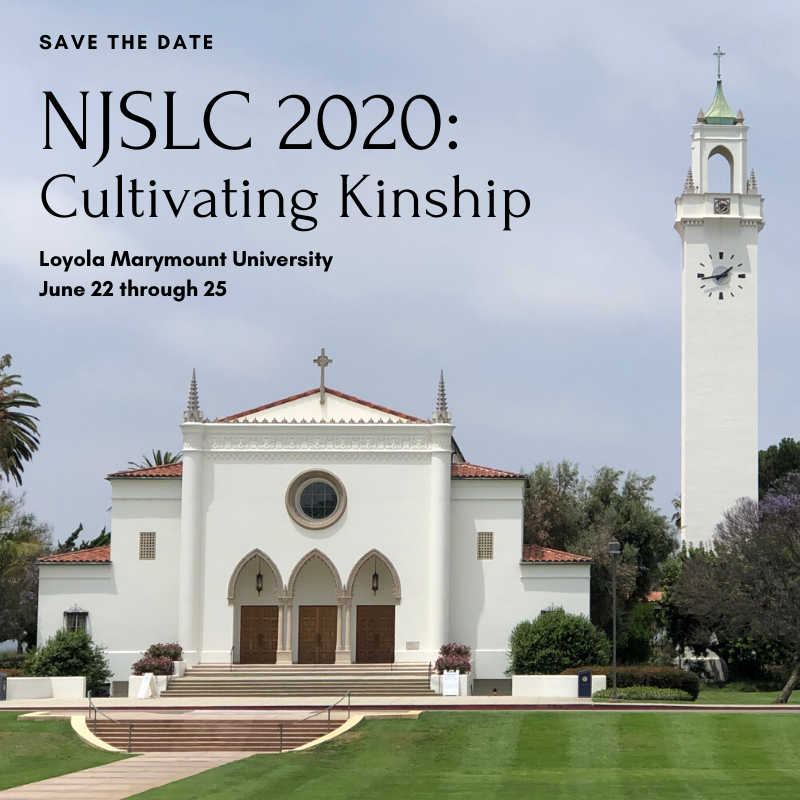 Join us for the National Jesuit Student Leadership Conference, hosted by Loyola Marymount University from June 22-25, 2020, featuring keynote speaker Fr. Greg Boyle, S.J. Stay tuned for updates, registration, and a call for proposals later this month. 
---
Moment for Mission: Help Us Enter the New Year
Happy new year!  As we return to campus, ready to start the new term, we recommit to our work as educators, mentors, advocates and companions with our students and colleagues.  
I share this prayer for the new year that I discovered at jesuitresource.org, a wonderful resource at Xavier University.
Help Us Enter the New Year
God of all time, help us enter the New Year quietly,
thoughtful of who we are to ourselves and to others,
mindful that our steps make an impact
and our words carry power.
May we walk gently.
May we speak only after we have listened well.
Creator of all life,
help us enter the New Year reverently,
aware that you have endowed
every creature and plant, every person and habitat
with beauty and purpose.
May we regard the world with tenderness.
May we honor rather than destroy.
Lower of all souls,
help us enter the New Year joyfully,
willing to laugh and dance and dream,
remembering our many gifts with thanks
and looking forward to blessings yet to come.
May we welcome your lavish love.
In this new year, may the grace and peace of Christ bless us now and in the days ahead.
- Vinita Hampton Wright; Offered by Douglas Ruschman
May you enjoy peace as you walk gently into the new year.
Jeanne Rosenberger
Santa Clara University
Past President, JASPA
---
January Blog Post: Jessie Graf, Boston College
Reflections on Walking with the Excluded
The UAPs have been a source of prayer and reflection for me the past ten months.  And if I'm really honest with myself (and you) about how it got to this point, it was after geeking out for quite some time when they were first released and realizing I was initially led by my head, not my heart.  I spent hours reading all the documents and watching the videos on the UAP website, prepared beautiful handouts in Canva for my department to learn and discuss them last March, and knew this would be a guiding document for individuals at Jesuit institutions across the globe for the next decade that I should be aware of moving forward.  After the "information download" phase was complete, I gave myself permission to pause and take time to approach these as a woman of faith who has a soul, not solely a Student Affairs professional.  I began to feel even more strongly that all four preferences have a place in my personal and professional life.  I have a distinct memory of reminding myself that these UAPs were not nuggets of knowledge to be gained, rather a call to pray, discern, and serve. 
Fr. General calls the Church, its people, and all those associated with the Society's apostolates to focus on these guiding preferences and be particularly attentive to the needs of all people and the world around us.  The UAP that focuses on walking with the excluded intentionally invites us to acknowledge and journey with the poor, outcast, and those whose dignity has been violated.  We are called to do this through a lens of reconciliation and justice. 
When I reflect on some experiences of being close to the poor and marginalized a rush of memories flood my mind including time spent in rural parts of Guatemala on an immersion trip with students, conversations with individuals who are experiencing homelessness, hours spent packing or serving meals to families who are food insecure, accompanying folks who disclose abuse or hurt by individuals and the Church, and moments of silence in conversation with people who have been targets of bias remarks because of identities they hold. 
In all of these instances and others, I felt some level of uncomfortability and inadequacy.  I know those feelings may never cease to exist, but letting the anticipation of that feeling hold me back from acting or accompanying is something I choose to actively fight against and continue to work through as someone with privileged identities.  I want to be a part of the solution to problems big and small as Christ calls me to do as a person of faith.  This UAP makes clear that using my ability to vote and influence allows me to show preferential treatment to the poor in ways that can help usher change into systems of systemic oppression in our country and on my campus.  How I choose to spend my time and treasure will not only speak volumes to my son as he grows up, but is now a responsibility my partner and I have as parents and take very seriously. 
I have learned and unlearned many things in my life and pray every day that a conversion be made real in the hearts of many around issues of injustices unrecognized or ignored.  I invite us all to channel our righteous anger when we witness or experience injustice, take action when we feel called, take a step back when it's someone else's turn to intercede or accompany, and reflect on these moments and how they shape who we are as spiritual and moral beings.  We are not only role models for colleagues and students, but family members and children.  I know I'll continue to make mistakes and hopefully fail with grace when I do, but walking with the excluded is something I want to intentionally focus on and invite you to do the same.   

Jessie Graf has worked professionally at Boston College for nine years and currently serves as the Assistant Director for Residential Ministry in the Office of Residential Life. She enjoys living in Boston with her spouse Phil, adopted pups JoJo & Faber, and seven month old son Linden. You can follow her on Instagram @jngraf and join her at the JASPA Summer Institute this July at Loyola University Chicago!