February Newsletter: Cura Personalis
President's Post

Monthly Community Impact Award

JASPA Networking Coffee Hour

Online Enrichment opportunity: Anti-Racism

Innovation Grant Application Process for 2021
---
President's Post
A central concern of St. Ignatius was this: how best to form Jesuits? The question behind his question was: What does it take to develop leaders who in turn can care for others while equipping them to contribute to the common good? The answer, it will come as no surprise, was to care for and educate the whole person. Ignatius believed that a healthy and holistically formed Jesuit was best positioned to contribute to the formation of others.  Ignatius also understood—something we too know well—that each and every individual is radically distinct and has different abilities, needs and hungers. And, therefore, a commitment to the care for and education of the whole person (cura personalis) has unique implications for different people.
As student affairs professionals, we have the privilege and weighty responsibility of investing in the formation of our students. During this remarkably complex and challenging spring semester, I invite you to take (and make) the time to invest in your own care and formation even as we focus our attention on the great needs of our students. I invite you too to be attentive and responsive to the distinct and unique needs of your colleagues. Carving out time for these investments in this context is almost impossible. I encourage you to face this endeavor in community – engage, nudge and encourage your colleagues to invest in their own cura personalis. All daunting goals are more easily accomplished in community.  
We want nothing more for our students than that they become the very best versions of themselves. And that in becoming that person, they make the world a better place.  This deep yearning invites us to deeply invest in ourselves, too.  
Good luck with your spring semesters and good luck with your own commitment to cura personalis!
Dave Johnson, PhD
Xavier University
JASPA President
---
Monthly Community Impact Award
We continue to recognize members of the JASPA community who are creating innovative ways to integrate our Jesuit values into student affairs work on their respective campus.  The purpose of the JASPA Community Impact Award is to highlight a program, service, publication or institutional commitment that embodies the values of Jesuit higher education.  Awardees are selected monthly to showcase best practices integrating Jesuit mission and identity to inform our student affairs work. 
The nomination form for the January Community Impact Award can be found here. 
Nominations are due on Friday, February 19, 2021.
---
JASPA Networking Coffee Hour
Save the Date - Friday, February 26 at 4:00 PM (EST)
Reconnect and meet new members of our JASPA network during our first networking opportunity of the semester!  More information to come; for now, please hold the date and time and we hope to see you there!
---
Online Enrichment opportunity: Anti-Racism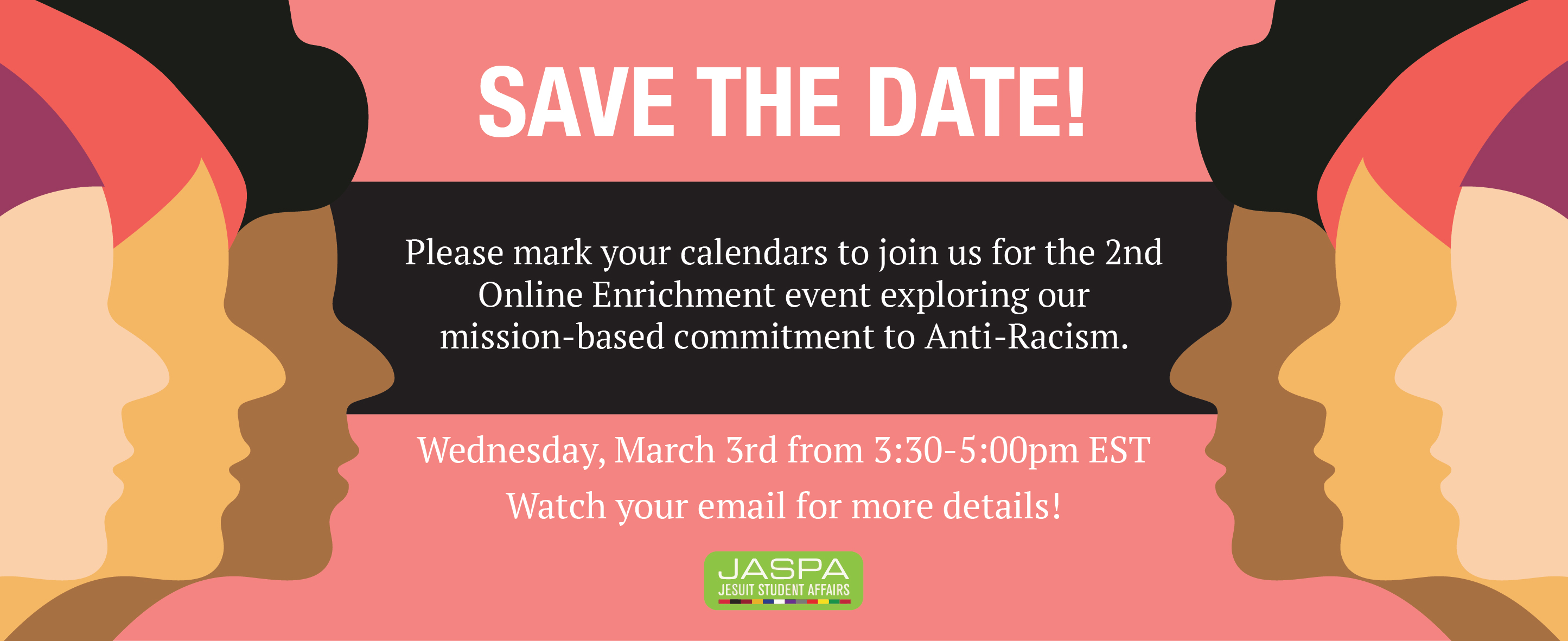 ---
Innovation Grant Application Process for 2021
Each year, JASPA will award a limited number of grants for the purpose of applying current research to address pressing issues in Jesuit student affairs. While proposals for all projects/programs that address the goals and values of JASPA are welcome, special emphasis will be placed on those that are focused on efforts promoting diversity and inclusion. Between $8,000 and $10,000 will be available to fund these initiatives each year. 
Proposals will be accepted until all funding is dispersed; however, priority will be given to proposals received by Monday, April 5, 2021. Decisions will be made and communicated between May and June, and grants will be awarded in the new fiscal year. More information about the process (including the link to the online application) can be found here: https://www.jesuitstudentaffairs.org/cpages/grants.  
Please contact Michelle Bata at mbata@holycross.edu if you have any questions, and/or if you are interested in serving on a committee to review grant applications. The commitment of reviewing applications will be limited to a period of a few weeks during April.