April Newsletter: Service
President's Post
JASPA Award Winners
Five-Year Summer Institute
April Community Impact Award Winner
Member Services Update
April Blog: Dr. Mark Harrington, Canisius College
---
President's Post
Our theme for this month is service, and we turn to St. Theresa of Lisieux and to our JASPA members for inspiration and models of that virtue.
First, let's consider St. Theresa.  She once wrote:
"Love proves itself by deeds, so how am I to show my love? Great deeds are forbidden me.  The only way I can prove my love is by scattering flowers and these flowers are every little sacrifice, every glance and word, and the doing of the least actions for love." 
This quote speaks to me, especially in our hectic and contentious times, about the kind of service that really matters.  Some of us may have the chance to carry out great deeds and to make sweeping changes on our campuses, in our communities, and in our professional lives. Yet that is not the daily norm for most of us.  We wake up on our ordinary Wednesday mornings with a handful of flowers we can scatter. These flowers can be direct acts of service to our brothers and sisters most in need.  The flowers can be a kind or healing word to those who are struggling in our offices. Or, the flowers can take the form of new policies or programs that make our campuses more welcoming, most vibrant, and more just. As St. Theresa notes, we scatter them in small acts of service, but those small acts accumulate and create communities that are different because of our presence.  I urge you not to underestimate the impact of your small flowers as they are offered day by day. 
Secondly, we turn to a sunny hilltop in Los Angeles and a remarkable day of mutual service that many of us had the chance to experience in early March. Our hosts at Loyola Marymount were warm and well-prepared, and certainly know how to put on a banquet!  Our annual conference committee brought together a meaningful day of conversation and enrichment.  And so many of us had the chance to connect, to learn, and to serve in various ways during this gathering.  On the days before and after our conference in LA, the leaders of JASPA spent time together – setting a course for the year ahead, welcoming new leaders into their roles, planning for the 2020 summer institute, and much more.  JASPA comes to life because of hundreds of small (and sometimes large) acts of service each year.  The generosity of those who take on leadership roles is inspiring, and I am deeply grateful.
As you go out into the world and scatter your flowers on this day, I wish you joy and strength and reassurance that your work matters. 
Dr. Todd Olson
JASPA President
---
JASPA Award Winners
At our Annual Conference last month, we honored a number of administrators (and programs) for outstanding contributions to Jesuit higher education while at Loyola Marymount University. Here is a full list of honorees:
Victor R. Yanitelli, S.J. Award: Jeanne Rosenberger (Santa Clara University)
Ignatian Medal for Outstanding Service to JASPA: Kate Grubb Clark (Loyola University Maryland)
Outstanding Achievement in Jesuit Student Affairs: Jane Holahan (Georgetown University)
Outstanding Commitment to Diversity and Social Justice: Rise: Ready to Inspire Success & Excellence (Marquette University)
Outstanding Academic Partnership: Faculty Career Kindler Program (Gonzaga University)
Outstanding Campus Program: Global Exchange Community (University of Scranton)
JASPA Scholarship Award: Neil Lipsitz (College of the Holy Cross)
Outstanding New Professional: Whitney Woodson (Marquette University)
Outstanding Graduate Assistant: MJ Ibale (Loyola Marymount University)
---
JASPA Five-Year Summer Institute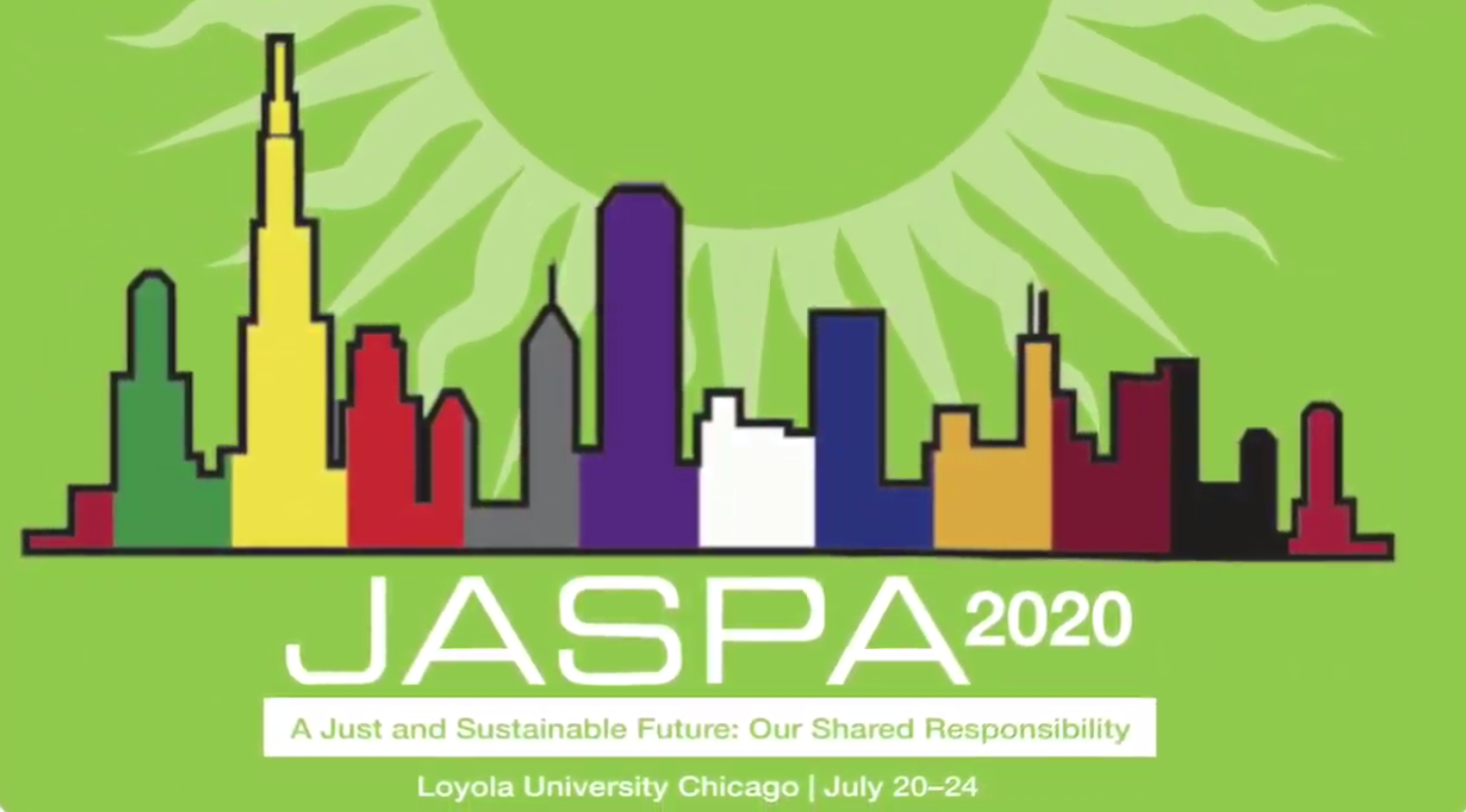 Mark your calendars: The JASPA 2020 Summer Institute will take place July 20-24,
2020 at Loyola University Chicago! Our theme for the institute is "A Just and
Sustainable Future: Our Shared Responsibility". Both your host and programming
committees are hard at work planning a five-day experience for participants to
engage in critical conversations surrounding our Jesuit, Catholic mission and
contemporary student affairs issues.
Our promotional video for the institute premiered during the JASPA Annual
Conference last month. We asked colleagues to reflect upon their takeaways from
past summer institutes. Check out the video below as some familiar faces respond!
JASPA 2020 Summer Institute Promo Video
Be sure to check the JASPA newsletter each month for important updates from your
institute committees. We look forward to seeing you in Chicago next summer!
Sincerely,
The JASPA 5 Year Committee
---
Community Impact Award Winner: Cocoa the Therapy Dog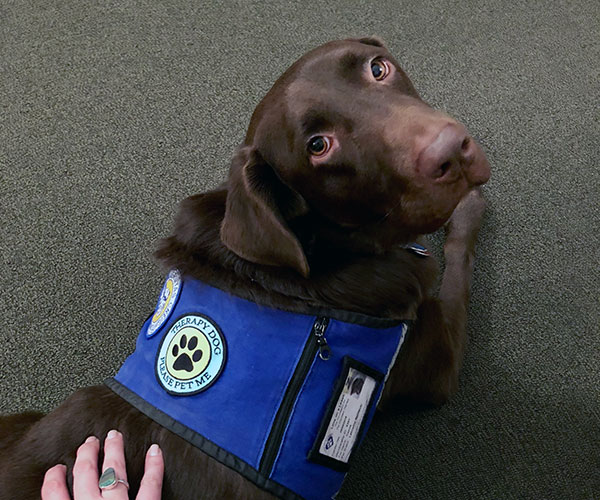 Creighton University's Center for Health and Counseling has added a new, furry face to its staff. Cocoa, a licensed therapy dog, is our Community Award Impact Winner for the month of April.  
"I see her as a softer side, a welcoming presence for the counseling center," says Michael Kelley, PhD, a psychologist in the department. "The presence of a dog can soften the interaction (with a patient). It's a comforting thing, a way of breaking the ice and putting people at ease." 
Kelley, who has been at Creighton since 1980 and previously served as the senior director of Student Counseling Services, is Cocoa's owner and handler. He first got the idea about using therapy dogs on campus after learning of a similar program at Loyola University Chicago. 
---
Member Services Update
Member Services is seeking suggestions about what materials/information should be included in an orientation packet for Newly Onboarded JASPA Members.  Suggestions can be sent to memberservices@jesuitstudentaffairs.org

Anyone seeking multiple physical copies of The Ignatian Imperative can request copies by emailing memberservices@jesuitstudentaffairs.org as well.
---
April Blog: Service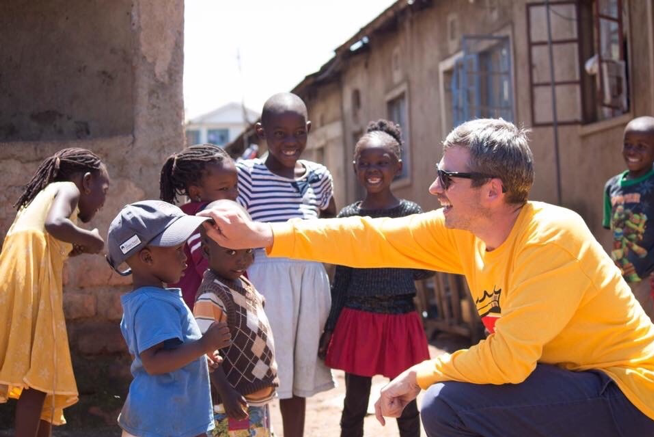 "Being successful in life will not always make us happy, but being happy will always make us successful in this life"
This quote is a motivational message I recently received from a dear friend and community leader, Davis Ouma. Over the winter break, I had the opportunity to return to the city of Kisumu, Kenya and serve alongside Davis in the Manyatta Slum. Davis is known throughout Manyatta as the "slum father." As he himself was a homeless boy living on the streets of Kisumu, he has chosen to live a life of giving back in service to his community in hopes for a better tomorrow.
What we continue to see on our service experiences in the Manyatta Slum is extreme poverty, hungry people, and less than ideal living conditions. What many of the members of the service-immersion team think they will hear are stories of hopelessness, sadness, and pain. They are always surprised that through Davis' educational, hygiene, recreational, and life-skills efforts in service to a hopeful community, participants see a slum filled with joy, laughter, and love. With very little funding to operate with, Davis consistently lives by let go and let God. Davis is an example of Ignatius' teaching to give and not count the cost.
In Jesuit higher education and staying true to the Ignatian tradition, we are called to be people for and with others. Service is who we are and it is what we do. When many of us think about service, we think of situations like my service trips to Kenya. I suggest that what we need to do is challenge ourselves to change our thinking of service to that of our respective campus communities. It does not have to take the form of participating in day of service or leading a service-immersion experience. And we do not have to go to the other side of the world to find happiness in the everyday.
So I began to reflect, how can Davis and the Manyatta Slum community be an inspiration to the work that we are doing in our campuses? How are we living this pillar of service and continuing our nearly 500-year-old tradition? St. Ignatius would suggest that Love ought to show itself in deeds more than in words.
For me, and I assume many reading this, it is being of service to our academic communities and most importantly, our students. Creating curriculum, programs, and opportunities that align our mission with student success to ensure that we build inclusive communities, which support our students' development from orientation through graduation.
As Davis suggests, being of service to communities we believe in, should simply make us happy. And I hope that joy and purpose you have found in Jesuit higher education, has led to a successful soul.
Dr. Mark Harrington serves as an assistant professor of graduate education and leadership and director of the higher education and student affairs administration master's program at Canisius College in Buffalo, NY. Prior to joining the faculty of the School of Education and Human Services, Mark served as a student affairs dean, chief mission officer, advancement and student life director, academic and career advisor, and student support advocate. Mark earned his bachelor's degree in Counseling and Health Psychology, master's degree in Student Personnel Administration, and doctorate in Higher Education Leadership.