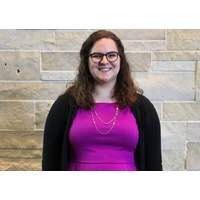 In her book Rising Strong, Brene Brown says "Integrity is choosing courage over comfort; choosing what is right over what is fun, fast, or easy; and choosing to practice our values rather than simply professing them." As I think about where I see integrity come about in my time at Loyola University Chicago it is within some of the most challenging times that I can most clearly see how the Jesuit heritage of our school matters most. This month's blog post is about integrity and I am going to tell you what that means in my experience with Jesuit education.
To start, I have to admit that when I first decided to apply to Loyola University Chicago for graduate school I was mostly intrigued by the idea that I could potentially go to school in arguably the greatest city in America. I wanted a new adventure and to learn from some of the best higher education scholars in the country. I had heard that Loyola's higher education program was known for its focus on social justice and that I would be pushed to explore my own identities. I did not realize that this philosophy was so integrally tied to the Jesuit values that I heard about during interview days.
To be honest, I didn't even realize that there were multiple types of Catholicism before I started researching Loyola. I grew up in Cincinnati, Ohio right down the road from Xavier University and in one of the most Catholic cities in America, but I grew up protestant and my exposure to Catholicism was solely through school sports and my neighbors who attended six different catholic grade schools and high schools (if you're from Cincinnati you know that is no exaggeration). Now that I have had a chance to be exposed to the Jesuit values here at Loyola, both in the classroom in the M.Ed. in Higher Education program and in my work as a Graduate Assistant for Residence Life, I have a new understanding of what it means to work with integrity. Since the establishment of the Society of Jesus, Jesuits have been working to push the envelope by seeking justice and serving the most vulnerable among us.
Everything we do in the classroom as graduate students at Loyola is through a social justice lens. Whether it be in courses like Multiculturalism for Social Justice in Higher Education or Evaluation and Assessment, I know that the Jesuit values boasted about by Loyola are being put into action by the faculty and staff teaching. Through both challenges within the School of Education at Loyola and with a tumultuous political climate, I have never doubted the commitment that I was promised when I started in this program. I was told that I would be challenged to think critically, reflect on my own values, and discern what my purpose is as an educator. I have been able to do all of this, and more, in my short time here. This is what integrity is to me. It means transparency from faculty and staff when things do not go as expected. It means showing students that advocacy and self-care are essential, not just preaching it. It means telling students that Loyola is committed to social justice and actually teaching us how to be educators working towards a more just and sustainable world.
In my work in Residence Life I feel the difference in how a Jesuit institution enacts its programs and interventions both as a student and in my professional role. I benefit from the way that my supervisors and their supervisors approach the responsibility of guiding me through this paraprofessional experience. Sometimes this means knowing that I am a student first and allowing me to prioritize my professional development. Other times it means helping me learn how to do things like supervise and use Excel. The whole department is invested fully in the student experience for everyone involved. Our residents are just as important as the Resident Assistants, Graduate Assistants, 98-year-old nuns, Jesuit Chaplains and everyone else who lives on campus at Loyola. I feel that I am learning how to work with integrity when I hear conduct cases and am expected to ask students about themselves and not just the incident. This past year our department has experienced budget changes, reconfigured positions, and title changes, but I have always known that my colleagues in Residence Life would never neglect the promise they have made to the graduate students they employ to prepare us to be new leaders in the profession. This is integrity in the form of a firm adherence to ones values, even when faced with difficulty.
To work with integrity doesn't mean that every decision will be easy, but it does mean that through difficult times you are able to demonstrate your commitment to your word. It means not turning our backs when students push back on school policies, but engaging in dialogue and learning from each other.
So long as we continuously allow ourselves to learn and change with the students we serve, the Jesuit education will be one of the most valued in the world and our jobs as educators immensely rewarding.
Morgan Ruebusch is in her second year as a Graduate Assistant in the Department of Residence Life at Loyola University Chicago. Morgan is also completing her second year in the Masters of Education in Higher Education program at Loyola, which is her first foray into both private and Jesuit education. She loves getting to live in Chicago and take countless walks along beautiful Lake Michigan. In her spare time Morgan likes to craft, listen to podcasts, and watch a lot of Netflix. She is excited to start the job search soon and see where her adventure in Student Affairs continues next!
---