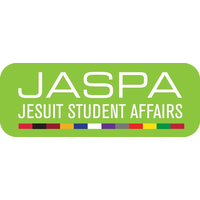 April- "Service"
President's Post
New Website Launching!
Annual Award Winners
Annual Award Winner Spotlight
Annual Conference Evaluation
NJSLC Registration
Profession Staff Recruitment Tool
April Blog
---
President's Post
Dear JASPA Colleagues:
Our theme for this month's newsletter is service, and I want to reflect on that concept in several ways in my brief post. I am writing to you on a rainy spring day in Washington, as I remember the snowy and windy days that many of us shared in Philadelphia just a few weeks ago. This is my first President's Post, and I'm honored to begin this new role of service to JASPA.
On March 3rd, many of us gathered on the campus of St. Joseph's University for our annual Spring Conference. The weather meant that some of our colleagues faced travel delays and cancellations, and we missed all the travelers who were stranded in airports or stuck at home. It was a wonderful day together, full of new insights and rich conversation (and mini-cheesesteaks at Club JASPA!)
Service was a hallmark of the Presidents' Panel at our conference, where three wise institutional leaders shared their experiences, their advice, and their reflections on this complex and contested moment in our country. I am very grateful to Dr. Linda LeMura of LeMoyne College; Fr. John Fitzgibbons, SJ, of Regis University; and Dr. Susan Donovan of Bellarmine University for joining us.
Service and the work of justice were focal points for several of the interesting roundtable discussions that filled our afternoon together in Philadelphia, and the quality of the conversations – about social justice, inclusion, free expression, and other key issues – was very rich. I am grateful to all the JASPA members who led those discussions.
Service is a great way to describe the contributions of Lisa Brown Cornelius and members of the Annual Conference Committee, and Aristotle Mosier and members of the Awards Committee, for their masterful work in bringing the Annual Conference and Awards Banquet to life. You'll see the list of award winners later in this newsletter. The service of our host colleagues from St. Joseph's, led by Vice President Cary Anderson, was also exemplary. We felt at home throughout our day there.
On Sunday, the outgoing and incoming JASPA leaders spent several hours together in a Leadership Meeting. We reflected on the past year, made plans for moving JASPA forward, and discussed the various forms of service each leader is providing to our association. Several Executive Board members are making transitions that were recognized. Tom Pellegrino of Fairfield, Lucas Novotny of Creighton, and Jeff Gray of Fordham concluded their service, while Deb Cady Melzer of LeMoyne and Terri Mangione of Canisius wrapped up their current duties and moved to new roles. Some new JASPA leaders will be featured in upcoming newsletters. Finally, I want to recognize the outstanding leadership of Jeanne Rosenberger of Santa Clara University, who finished her term as President at our March meeting, and will continue her service as Past President for the next two years. Jeanne has been an insightful, ambitious, and caring leader for JASPA, and we are all in her debt!
I'd like to end with a quote from one of our AJCU Presidents, Father Michael Graham, SJ of Xavier University. Father Graham has defined our monthly theme with his assertion that "Service is what prayer looks like when it gets up off its knees and walks around in the world." So, whatever our faith tradition or philosophy, it is clear that service is how we make our values real, how we walk our talk, and how we bring Jesuit higher education to life each day.
Each of you has my gratitude for your service, and my best wishes for the busy weeks ahead.
Todd A. Olson, Ph.D.
President, JASPA
Vice President for Student Affairs, Georgetown University
---
new jaspa website launch!
The countdown to the much-anticipated JASPA website is ON! We plan to reveal the new website next week and invite you activate your account to gain access to the membership database, event registrations, online resources like our blogs and webinars, and so much more!
You should receive a link to activate your account no later than Friday, April 13th. If you do not receive the invite, please connect with your JASPA campus liaison to ensure you are on our membership roll.
This is the last newsletter that will be sent from the OrgSync platform and all future communication will be handled on our new platform. We sincerely thank our partners at OrgSync for providing JASPA a space to grow our association!
---
annual award winners
Congratulations to the following professionals and programs for bringing home an award at our annual conference! Award spotlights on individual awards will be featured in future newsletters!
The JASPA Scholarship Award
Sandra Estanek
Canisius College
The Ignatian Medal for Outstanding Achievement in Jesuit Student Affairs Work
Amy Swank
Gonzaga University
The Ignatian Medal for Outstanding Graduate Assistant Award in Jesuit Student Affairs
Kevin Franco
Fordham University
The Ignatian Medal for Outstanding Commitment to Diversity and Social Justice
Magis Row
Georgetown University
The Ignatian Medal for Outstanding New Professional Award in Jesuit Student Affairs
Katie Radtke
Marquette University
The Ignatian Medal for Outstanding Campus Program or Initiative
Undocuweek
Xavier University
The Ignatian Medal for Outstanding Academic Partnership
Xavier Action and Care Team
Xavier University
The Ignatian Medal for Outstanding Service to JASPA
Lucas Novotny
Creighton University
The Ignatian Medal for Outstanding Service to JASPA
Thomas Pellegrino
Fairfield University
The Reverend Victor Yanitelli, S.J. Award
Mark Reed
Saint Joseph's University
---
annual award winner spotlight
Each month we will feature one of the Annual Conference Award Winners in more detail to highlight the good work on our campuses and inspire additional collaboration. This month's feature is Undocuweek from Xavier University, who won the Ignatian Medal for Outstanding Campus Program or Initiative.
The nominator wrote, "What transpired this past fall semester on our campus in Cincinnati was one of the most impressive programmatic forces I have witnessed in my 15+ years in Jesuit education. Two elements of Undocuweek stand out to me as remarkable: process and impact. Related to process, students and staff from Center for Faith and Justice were able to collaborate effectively with our Student Government Association, Bellarmine parish, and other campus clubs and offices to plan and execute programming that grabbed the attention of campus in widespread ways instead of only drawing a small subset of the student body. I was impressed to see such enthusiastic collaboration and skilled facilitation from Xavier staff to empower the student-led efforts. Undocuweek was instrumental in educating, orienting, and organizing our campus towards the effort of protecting DACA as well as for comprehensive immigration reform were astounding."
---
annual conference evaluation
If you attended the annual conference in Philadelphia, please complete the conference evaluation. Your feedback will be used for the planning of future Annual Conferences and JASPA programming. If you have any questions, please do not hesitate to contact us.
---
njslc registration
Standard registration for the National Jesuit Student Leadership Conference is live! Don't miss your chance to engage with fellow Jesuit educators and for your students to connect with fellow student leaders! Register HERE!
---
Staff Recruitment Resource
Do you have staff openings in your department and division? We encourage you to use this resource in candidate files, online resources, and during on-campus interviews to showcase the added bonuses of joining the JASPA community. Please feel free to copy and distribute as you see fit!
---
April BLOG
Strategizing and Service: Where's the Line?
Jordan Bolte, Georgetown University
What fuels the work and service of the modern day student?
To the cynic, service may be just another stepping stone up the ladder of corporate ascension, a feather in the hat of young and hungry go-getters. Students only help others because it makes them look good. Pad that resume with something or you'll never get the position, the internship, the scholarship, etc.
To the optimist, service may be an altruistic expression of the deep care that students have for one another. A reaction to the world around them, the individual engaged in service is doing so because they see a problem and they want to fix that problem. "I can't stand watching people be in pain, so I try to do what I can." Alternatively, a student with good intentions may find themselves unable to say, "no" and feel good about themselves. In my experience, many student leaders fall into this group.
In reality, I think service among students falls somewhere in between these poles. Some students are simply Machiavellian, some students are deeply compassionate, some are an unexamined mix of both.
Regardless of the motivation of the student, we; as professionals but exceedingly because we are professionals in Jesuit higher education; must excel at connecting belief to behavior. Deep learning and transformational experiences occur at our institutions every day, and service is a significant factor in that growth. Through the connections we help make, service may help solidify into the lives of our students the very values we hope to embody.
Steven Garber has some inspiring thoughts on the work of connecting belief and behavior in his book The Fabric of Faithfulness. Similar to all Jesuit teaching, we are charged with helping students see that a coherent life; a life "centered in deep conviction about what is real and true and right"; is a life worth living.
"Lives that are marked by a radical commitment to justice and love and a selfless passion for a transformed world." What a powerful statement over about the purpose and possibility of our work! Such lives of service are attainable for us and those we work with, but it takes a specific kind of intentionality.
According to Garber, lives that cohesively connect service and belief require three traits: Conviction, Character, and Community. A deeply held belief that is flexible enough yet strong enough to apply to the complexities of the world, secular or not counts as a conviction. The Jesuits have a long history of "setting the world on fire", and we hope to instill that same thoughtful passion in the participants of our Jesuit institutions.
Those same students require role models and examples to see that the convictions they hold are truly able to be lived out. It then becomes feasible for them to reside in a worldview built upon their convictions. Ignatius was this to the Jesuits, and the faculty, staff, and fellow students who live congruent lives act as these role models everyday. We embody our Jesuit values through our service among students.
Finally, students make life choices to create communities of like-minded individuals based upon their convictions and the role models they admire. This support structure allows them to hang their worldview on other people, not just their own personal willpower or experience. We hope to create deep commitment to scholarship, faith, and social justice through our service and the connections made while at our colleges and universities.
Service is an act fueled by a wide range of intentions. It is our job to help connect belief, role models, and community to actions of service in order to ensure these are rooted in an examined life.
Jordan Bolte is a Community Director in the Office of Residential Living at Georgetown University. He is interested in student leadership and resiliency, innovative learning techniques and technologies, and vocation within Jesuit Higher Education. He received his Bachelor and Master's degrees from Taylor University, located in Upland, Indiana. Jordan lives on campus at Georgetown University. Jordan loves reading, board games, and spending time with his family.
---