2020 JASPA Five Year Summer Institute
"A Just and Sustainable Future: Our Shared Responsibility"
July 20-24, 2020
Loyola University Chicago
@ Chicago, Illinois
Registration
Early registration is $580 per person and available through March 15.

Regular registration is $600 per person and available March 16-April 9.

There is no group registration option but we do offer group payment (see next section).
Payment
Upon registering, you will be prompted to either pay immediately by credit card via PayPal or request an invoice to pay later by check or credit card.

To request an invoice, click on the "Invoice Me" button on the next screen after you have selected your registration type.

If you need an invoice to do group payment for multiple people, please request an invoice by contacting Tedd Vanadilok, Logistics Co-Chair, at tvanadilok@scu.edu.

Payment of an invoice may be by check or credit card; if by credit card, we will send you a PayPal link.
Discount
For those who get a discount, you will have your promotional code emailed to you.

Enter your code in the "Click here to enter your promotional code" box in the section where you enter your registration type.
Housing
Type JASPA2020 as the promo code.

Be sure to set the dates for which you are seeking housing.

You may search within the following date range (inclusive of book-end dates) for all available housing options: July 19, 2020 to July 25, 2020.

Housing is on a "first come first served" basis and based on availability.
Conference Website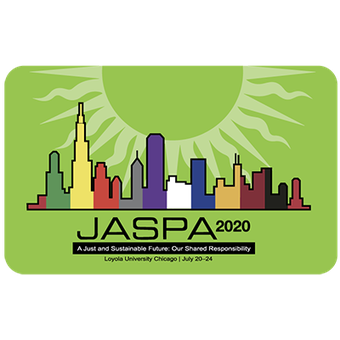 Loyola University Chicago