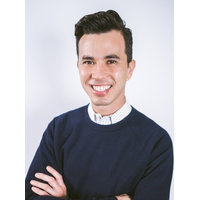 Anthony Garrison-Engbrecht
My Dear Friends,
As I prepare to embark on a new professional adventure outside of Jesuit higher education, I have spent time in reflection recalling memories, experiences, and individuals who have shaped me into the person I am today. For the service and dedication to the hundreds who have shaped my life and to the over 500-year Jesuit tradition of educating people for others, I would like to publicly express a heartfelt thank you.
Over the last 15 years, my life has been formed by Jesuit values and ideals. I have experienced how a Jesuit education is focused on preparing students for life. I have witnessed first-hand the benefits of a person-centered curriculum where each student is allowed to explore their unique intellectual curiosity. I was able to develop as a leader through service and involvement as an undergraduate student to later be present to the transformative effects of educating and supporting student leaders as a professional staff member. Through all of this there has been one common theme: Peace Within.
I have found Peace Within through community.
It is that very natural sense of belonging that attracts individuals to Jesuit colleges and universities. It is that exact same sense of belonging that allows people to be authentic and honest with themselves and others as they encounter the world around them through their lens. This sense of belonging has been profound for me. First as a student at Loyola University New Orleans through co-curricular involvements and as an orientation leader to a professional staff member involved at Loyola Marymount University. I have also found a wonderfully supportive community through JASAP participating as a committee member and chair of the Mentoring and Networking Committee and look forward to staying involved with JASPA through the Affiliate Program. It has been the community that I am involved in that has supported me, challenged me, and has ultimately made me a better professional and person. I will take the peace within that I have found through community with me and continue to be authentically and passionately committed to creating community so that all can belong.
I have found Peace Within through education.
As a student, I was confused about what I wanted to do with my life. I started my first semester as a pre-med biology and chemistry double major. I am not sure what I was thinking and I am not a medical doctor now so we all know where I landed with that rocky start. However, it was through my Jesuit education that I was encouraged to explore and to search within myself to discover my passions. It was the late Dr. Kurt Birdwhistell who encouraged me to visit the New Student Orientation Office to talk about my interests and it was the professional staff within Student Affairs at Loyola who provided mentorship and guidance through my exploration. I will take the peace within that I have found through education with me and, just as I was encouraged, I will encourage all that I meet to become life-long learners and to live extraordinary lives for the betterment of society.
I have found Peace Within through struggle.
While growing up, I had some language and speech issues – for example, I thought the letter "R" and "W" were the same and could be used interchangeably. My parents encouraged me to toil in school. They supported me and helped with homework and class projects. Education was about hard work, exertion, and trials. If I did not understand something, they quietly reassured me that struggle was good. This steady and quiet affirmation that struggle is good became a hallmark of my Jesuit education and professional experience. Struggle has stretched me beyond what I could imagine, it has allowed me to overcome challenges that I thought were insurmountable, and has allowed me to take pleasure in the knowledge that I am in constant development – continually becoming the best version of myself. I will take the peace within that I have found through struggle with me to remind me that God will not give me more than I can bear.
I have found Peace Within through love.
St. Ignatius of Loyola wrote, "Love is shown more in deeds than in words." Through my time as a student and most recently as a professional staff member, I have seen the power of these nine words. In fall 2005, my life was dramatically changed due to Hurricane Katrina and I found myself in Seattle - alone, afraid and far from home. Upon showing up on campus at Seattle University, I was met with warm embraces from the orientation team that was in training and overwhelmed by the amount of love shown to complete strangers. As a staff member, I witnessed love in new and unique ways. The love we show to each other as we are celebrating, the love that we show each other as we are mourning, and the overwhelming amount of love that I felt as I said my final goodbyes in late December. I will take the peace within that I have found through love with me to all I meet. I will strive to be the embodiment of love as a reflection of the love that I have been shown.
Thank you, my Jesuit family, from the bottom of my heart for the great contributions that you have made to my life. I am a more whole, more compassionate, and more loving being due to the impact that you all have made of me. I would like to say a special thank you to Cissy Petty (Loyola University New Orleans), Rob Kelly (Loyola University Maryland), and my very special Loyola Marymount family (Dr. Lane Bove, Jade Smith, Andrea Niemi, and Rich Rocheleau) for your unwavering support, love, and encouragement. While I can never repay what I have received, it is my hope and dream that I am able to do justice to the Jesuit education that I have received in service to others.
In closing, I share this prayer attributed to St. Thérèse of Lisieux and St. Theresa of Avila for this coming year. May we all find peace within.
May today there be peace within.
May you trust God that you are exactly where you are meant to be.
May you not forget the infinite possibilities that are born of faith.
May you use those gifts that you have received, and pass on the love that has been given to you.
May you be confident knowing you are a child of God.
Let this presence settle into your bones, and allow your soul the freedom to sing, dance, praise, and love.
It is there for each and every one of us.
Forever yours in community,
Anthony
Ps. Stay involved. Be active. Keep in touch. Join the JASPA Affiliate Program!
Anthony Garrison-Engbrecht is the former Director of Leadership Programs & Office of LGBT Student Services at Loyola Marymount University. He will begin as Assistant Dean of Students and LEAD Center Director at UC Berkeley in spring 2018. Anthony received his B.A. in sociology at Loyola University New Orleans and his M.A. in education and psychology from Pepperdine University. He completed his M.A. in theology with an emphasis in comparative theology from Loyola Marymount University in 2012 and is currently pursuing a Ph.D. in education at Chapman University with an emphasis in culture and curriculum.
---